Title: Necrotizing pancreatitis with invasive candidiasis and candidemia due to Candida albicans and pan-echinocandin-resistant Candida glabrata
Submitted by: Laman Rahimli MD, Jon Salmanton-García PhD, Prof. Oliver A. Cornely MD, Jannik Stemler MD
Institution: University of Cologne, Faculty of Medicine and University Hospital Cologne, Department I of Internal Medicine, Excellence Center for Medical Mycology (ECMM), Cologne, Germany andUniversity of Cologne, Cologne Excellence Cluster on Cellular Stress Responses in Aging-Associated Diseases (CECAD), Cologne, Germany.
Email: laman.rahimli@uk.koeln.de
Date Submitted:  13 March 2023
History:
A 64-year-old man presented to the central emergency department (day 0) with weakness and loss of sensation in his left leg due to spinal ischemia, and aortoiliac occlusive disease (Leriche's syndrome) was diagnosed.
He underwent emergency surgery due critical leg ischemia bilaterally, and was transferred to the surgical intensive care unit (ICU) for post-operative care. From day 4, the patient was cardiopulmonary stable on a normal ward and free of symptoms except for bloating. Due to persistently elevated inflammatory parameters under broad-spectrum antibiotic treatment with piperacillin-tazobactam, CT angiography of the abdomen was performed on day 11 to search for an infectious focus, as well as to assess bowel perfusion. It showed the finding of necrotizing pancreatitis. The antibiotic therapy was changed from piperacillin/tazobactam, which had already been started 7 days ago, to meropenem. This course resulted in a clinical improvement and decrease of inflammatory parameters. Due to persistent hypokalaemia, the patient was transferred to the intermediate care ward on day 14 for further monitoring and a change of the diuretic therapy. A peripheral blood culture from day 15 showed growth of yeasts. Antifungal therapy with caspofungin was started from day 18, because of Candida albicans candidemia. The following blood cultures were sterile, and C-reactive protein and leukocyte counts were slightly decreasing. On day 24, abdominal sonography was performed and still showed necrotizing pancreatitis with formation of pseudocysts.
On day 34, a large retrogastric pancreatic pseudocyst with extended solid portions was endoscopically drained into the stomach with a metal stent (Hot-Axios 15/10) and a double-pigtail endoprosthesis. An abdominal sonography on day 40 continued to show the picture of necrotizing pancreatitis with regular transgastric drainage. Furthermore, there were clearly regredient pseudocysts with hardly any liquid formation.
On day 45, the patient was transferred to the surgical ICU with hematemesis, hemodynamic instability and a deterioration in vigilance. After stabilization with initiation of vasopressors and blood transfusions, CT-guided abdominal drainage was inserted in the presence of CT morphological retropancreatitis. An esophagogastroduodenoscopy with necrosectomy, and pancreatic hanarostent© placement was done on day 47. The mycological culture of the pancreas smear grew Candida albicans, Candida glabrata and bacteria such as Enterococcus faecalis, Escherichia coli, Proteus mirabilis on day 49. One day after, another partial necrosectomy was performed during esophagogastroduodenoscopy. In addition, the position of the inserted stent was checked and a nasobiliary drainage was placed. On the morning of day 54 a new esophagogastroduodenoscopy for necrosis ablation was performed. During the course of the procedure, the patient again developed fever. Under ongoing therapy with caspofungin, on day 56 Candida albicans, Candida glabrata, Enterococcus faecalis, Escherichia coli were cultivated from pancreas abscesses and on day 60, Candida glabrata was also detected in blood cultures.
As focus of the persistent candidemia, the persistent pancreatic necrosis was clearly seen as persistent source, however, extensive surgical resection was technically not feasible.
Antifungal susceptibility testing (AST) showed a resistance of Candida glabrata against all echinocandins, so that a change of antifungal therapy to liposomal amphotericin B was done day 64.
On day 70 a colon perforation was suspected and an explorative surgical laparotomy was performed. Here, a descending colon perforation was revealed, so that a resection of the middle of the transverse colon, descending colon, and sigmoid colon with Hartmann drainage was performed. Intraoperatively collected samples from the retroperitoneal abscess revealed. From the intraoperative swabs, Acinetobacter baumannii (4MRGN), Candida glabrata, Proteus mirabilis and VRE Enterococcus faecium were detected.
Past Medical History:
Arterial hypertension
Hypercholesterolemia
Nicotine abuse
Onset chronic kidney disease (CKD): stage G3aA1 of unclear etiology
Physical Examination:
On admission:
Vigilance: awake, oriented.
Neurology: No meningism, Cranial nerve status unremarkable. Degrees of strength: hip flexors left 4/5, right 5/5 hip abductors: right 5/5, left 4/5, hip adductors right 5/5, left 4/5, foot elevator left 1/5, right 4+/5, foot sinker left 1/5, right 4+/5. No atrophies. Hypoesthesia from L1 left>right. Dissociated sensory loss. Pallesthesia: Tuberositas tibiae and Malleolus medialis both sides 6/8, Ossa manus both sides 8/8. Patient examined in supine position.
Laboratory Examination (range):
On admission
– WBC: 9.59 x1E9/l (ref. 4.4 – 11.3)
– RBC: 4.56 x1E12/l (ref. 4.5 – 5.9)
– Hb: 14.7 g/dl (ref. 13.5 – 18.0)
– Hct: 44 % (ref. 42 – 50)
– CRP: 17.5 mg/l (ref. <5,0)
– Albumin: 2.0 g/l (ref. 3.5 – 5.2)
Question 1: What are probable/possible diagnoses?
Microbiology/Diagnostic Tests Performed (Figure 1):
Culture:
Blood (peripherally): Candida albicans /Caspofungin- S
Pancreatic juice: Candida albicans + Candida glabrata /AST not performed
Blood (CVC): Candida glabrata /AST not performed
Pancreas abscess: Candida glabrata /AST not performed
Blood (peripherally): Candida glabrata /Pan-echinocandin- R*
Blood (CVC): Candida glabrata /AST not performed
Blood (arteria): Candida glabrata /AST not performed
Blood (shaldon catheter): Candida glabrata /AST not performed
Swab, wound deep abdomen: Candida albicans + Candida glabrata /Pan-echinocandin- R*
Fluid, abdominal: Candida glabrata /AST not performed
Swab, retroperitoneal perforation, abscess: Candida glabrata /AST not performed
Swab, abdominal: Candida albicans + Candida glabrata /AST not performed
Biopsy:
Stent, originally placed in pancreatic cyst: Candida albicans + Candida glabrata /AST not performed
Retroperitoneal abscess: Candida glabrata /Pan-echinocandin- R*
Abdomen, Pancreas necrosis: Candida albicans /Caspofungin- S + Candida glabrata /AST not performed
AST- antifungal susceptibility testing; S- susceptible; R- resistant
*Echinocandin susceptibility test results confirmed by National Reference Centre for Invasive Fungal Infections in Germany.
Final Diagnosis:
Persistent nosocomial candidemia with Candida albicans and Candida glabrata due to invasive candidiasis from retroperitoneal abscesses
Question 2: What would be the recommended treatment?
Treatment:
At the first episode of candidemia due to Candida albicans treatment was started on day 18 with 70mg i.v. caspofungin and continued for 14 days. Daily blood cultures were done until negative and the indwelling venous catheter was changed.
During the course, the patient developed pancreatitis, therapy with meropenem was given for necrotizing pancreatitis and due to abscess formation intrapancreatic endoscopic revision was repeatedly performed. The cultures showed evidence of various pathogens including Candida albicans and Candida glabrata, so that this was clearly seen as the focus of recurrent candidemia. Therapy with caspofungin 70 mg was started again on day 45 of admission. During the course of the disease, the patient showed a colon perforation with persistent retroperitoneal abscess in the context of pancreatitis.
In summary of the findings, the retroperitoneal abscess after necrotizing pancreatitis seemed to be causative for the persistent bloodstream infections. Antifungal treatment was continued with liposomal amphotericin B in the presence of echinocandin-resistant Candida glabrata.
Most recently, the patient received liposomal amphotericin B for evidence of caspofungin resistant Candida glabrata, as well as vancomycin for Enterococcus faecium bloodstream infection and meropenem for necrotizing pancreatitis. (Figure 1)
As in the EQUAL Candida score 2018 recommendations, central venous catheter (CVC) removal and echinocandin treatment was started. Daily follow-up blood cultures were checked, and caspofungin therapy was continued for at least 14 days. Echocardiography and ophthalmoscopy were not administered.
Outcome:
From day 82, fever recurred and the hemodynamic situation deteriorated again with additional respiratory deterioration.On the morning of day 83 a new septic episode occurred, with aspiration pneumonia and the patient had to be intubated. He died on day 83 of his hospital admission due to complicative course of acute necrotizing pancreatitis.
   Figure 1. Timeline of the clinical courses performed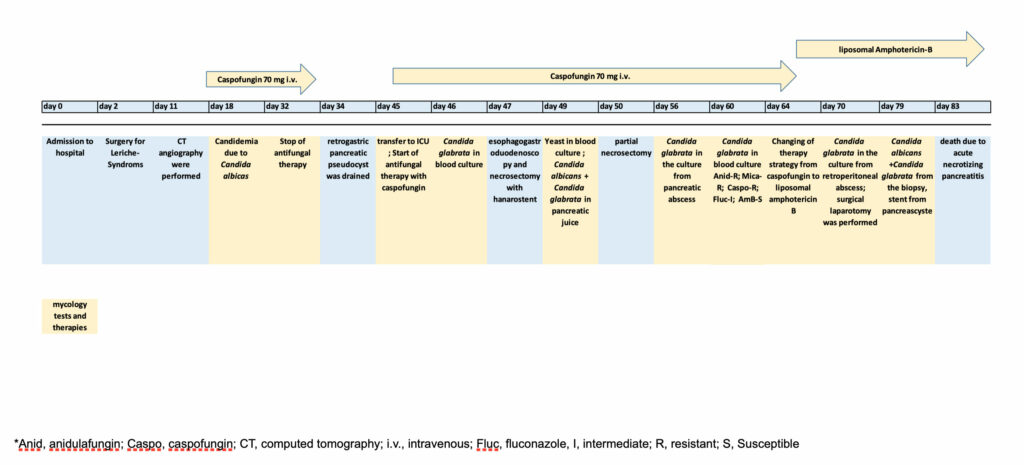 Discussion:
Acute necrotizing pancreatitis is a life-threatening condition that is frequently worsened by the emergence of septic shock and multi-organ failure. The most frequently identified fungal pathogen in patients with severe acute pancreatitis is Candida spp. (1), especially Candida albicans (2). Risk factors for invasive candidiasis and candidemia are listed as ICU admission, mechanical ventilation, antibiotic therapy, indwelling central lines, parenteral nutrition, dialysis, surgery, pancreatitis, steroids or other immunosuppressive therapies. (3)
Echinocandins and liposomal amphotericin B are the first-line medications in the initial and first-line therapy of candidiasis in both neutropenic and non-neutropenic patients, according to ECIL-6 recommendations (4) and ESCMID Guidelines 2012 (5).
It is advised to continue treatment for 14 days beyond the initial positive blood culture. The IDSA and ESCMID recommend obtaining at least one blood culture every day until the results of the cultures turn negative (6). These recommendations were followed, but unfortunately, due to deep seated infection with organ involvement candidemia recurred in this case.
In the here presented case, a proven Candida infection of pancreatic tissue was present when Candida spp. were isolated directly from pancreatic tissue. Treatment with caspofungin was started, venous catheter was removed because of candidemia, and Candida spp. was suspected as one of the causing pathogens for superinfected necrotizing pancreatitis with abscess formation. Candida albicans and Candida glabrata isolates were collected from the biopsy of pancreas cysts and pancreas swabs culture and at the same time from blood cultures. During antifungal therapy the Candida glabrata acquired resistance against echinocandins.
Candida spp. are the most common pathogens of invasive fungal infections in Germany. After Candida albicans, Candida glabrata is found most frequently (7) and Germany is experiencing the emergence of echinocandin-resistant strains of Candida glabrata (8). High azole and regular echinocandin usage in hospitals are typically associated with the development of resistant Candida glabrata (9). Echinocandin resistance in Candida glabrata is mostly related to FKS2 gene mutations. (8) However, compared to other echinocandins, caspofungin is connected to a higher risk of stimulating FKS2 mutations (10).
According to all mycology evidence the here presented case had persistent candidemia due to non-sanitable invasive candidiasis. Besides the acquired pan-echinocandin resistance occurred in Candida glabrata isolates which caused a change in antifungal treatment, the patient had several other infectious complications such as multi-drug resistant gram-negative bacteremia with septic shock and aspiration pneumonia. Despite interdisciplinary management (infectious diseases, critical care, surgery, endoscopy) the patient deceased.
Key References:
1. Baronia AK, Azim A, Ahmed A, Gurjar M, Marak RS, Yadav R, et al. Invasive Candidiasis in Severe Acute Pancreatitis: Experience from a Tertiary Care Teaching Hospital. Indian J Crit Care Med. 2017 Jan;21(1):40-5.
2. Chakrabarti A, Rao P, Tarai B, Shivaprakash MR, Wig J. Candida in Acute Pancreatitis. Surgery Today. 2007 2007/03/01;37(3):207-11.
3. Ostrosky-Zeichner L, Shoham S, Vazquez J, Reboli A, Betts R, Barron MA, et al. MSG-01: A Randomized, Double-Blind, Placebo-Controlled Trial of Caspofungin Prophylaxis Followed by Preemptive Therapy for Invasive Candidiasis in High-Risk Adults in the Critical Care Setting. Clinical Infectious Diseases. 2014;58(9):1219-26.
4. Janka V. Invasive yeast infection in patient with Acute pancreatitis. Imaging Journal of Clinical and Medical Sciences. 2017:006-10.
5. Cornely OA, Bassetti M, Calandra T, Garbino J, Kullberg BJ, Lortholary O, et al. ESCMID* guideline for the diagnosis and management of Candida diseases 2012: non-neutropenic adult patients. Clin Microbiol Infect. 2012 Dec;18 Suppl 7:19-37.
6. Mellinghoff SC, Hoenigl M, Koehler P, Kumar A, Lagrou K, Lass-Flörl C, et al. EQUAL Candida Score: An ECMM score derived from current guidelines to measure QUAlity of Clinical Candidaemia Management. Mycoses. 2018;61(5):326-30.
7. Marie von Lilienfeld-Toal JW, Hermann Einsele,, Oliver A. Cornely OK. Invasive Pilzinfektionen: Neue Herausforderungen und neue Therapieoptionen. Deutsches Ärzteblatt 16/2019. 2019.
8. Aldejohann AM, Herz M, Martin R, Walther G, Kurzai O, Group obotIFIS. Emergence of resistant Candida glabrata in Germany. JAC-Antimicrobial Resistance. 2021;3(3).
9. Pappas PG, Lionakis MS, Arendrup MC, Ostrosky-Zeichner L, Kullberg BJ. Invasive candidiasis. Nat Rev Dis Primers. 2018 May 11;4:18026.
10. Shields Ryan K, Kline Ellen G, Healey Kelley R, Kordalewska M, Perlin David S, Nguyen MH, et al. Spontaneous Mutational Frequency and FKS Mutation Rates Vary by Echinocandin Agent against Candida glabrata. Antimicrobial Agents and Chemotherapy. 2018;63(1):e01692-18.