Progressive visual field loss, confusion, headache for 2 months
Authors:
Peter G. Pappas,
64 yo black male with recent onset of progressive visual loss on R visual field, confusion and headache. Symptoms have progressed over 2 months
Until then the patient was in his usual state of health, no recent hospitalizations, procedures or history of trauma.
Otherwise the patient denies fever, seizures, paresthesias, paresis, vertigo, or falls.
Has a history of Evans Syndrome for which he takes low dose prednisone daily (10-20 mg/d)
PMH:
HTN
Evan's Syndrome
Meds: Prednisone, Lisinopril, albuterol, HCTZ
Social: From Birmingham, AL, no travel hx, no pets, denies ETOH, tobacco, drugs
Occupation- Physical Therapist- at a local hospital
Physical Examination:
VS: BP 135/80 HR 75 Temp 36.9
General: Alert and oriented.
HEENT: PERRLA, EOMI. No oral lesions
Neck: Supple, no LAD.
Lungs are clear to auscultation.
CV: RRR, no MGR.
Abd: soft, NT, ND. No VCM.
Neurologic: R homonymous hemianopsia, normal sensory, 5/5 strength and normal sensory. Up-going toes on L foot. No clonus. 2+ LE reflexes.
Laboratory Examination:
WBC 8.95

Diff: Neu 71/ Ly 16/ Mo 8/ Eo 4

H/H 12 gms/36%
PTL 123K
BMP wnl
CXR wnl
HIV neg
Imaging: MRI- March 2016
(MRI-1)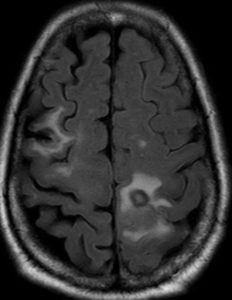 Hospital course:
Left parietal craniotomy and partial resection of abscess
"The abscess was gray in color and chalky in consistency. It was removed by establishing margins."
Pathology: Brain Biopsy (Histology 1, 2, 3, 4)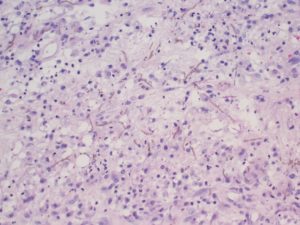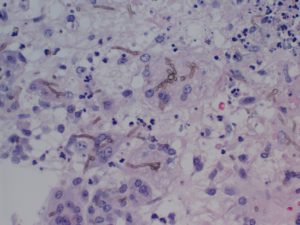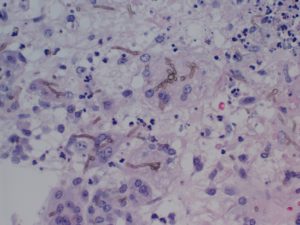 Question: What is your diagnosis?
Microbiology:
GS: fungal elements 2+
Culture:

Abundant Cladophialophora bantiana

Amphotericin B = 0.5
Posaconazole = 0.125
Voriconazole = 1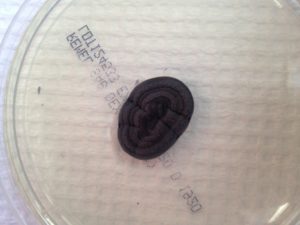 (MICRO1)
Diagnosis: Cerebral Phaeohyphomycosis; Species: Cladophialophora bantiana
Clinical Course:
Medical management:
Ampho B, voriconazole, decadron, phenytoin started after brain biopsy.
Improved slowly over 2 weeks, then transferred to rehab facility
Discussion:
Phaeohyphomycosis
Dematiaceous fungi (melanin-like pigments)

Phaeo is Greek for "dark".

Variety of infections in humans

Subcutaneous, deep soft tissue
Invasive
Nomenclature:
Cerebral phaeohyphomycosis:

Most common:

Cladosporium trichoides
Xylohypha bantiana
Cladosporium bantianum
Cladophialophora bantiana

Other causative fungi:

Wangiella dermatitidis (Exophiala dermatitidis)
Dactylaria gallopava (Ochroconis gallopava)
Fonsecaea pedrosoi,
Bipolaris spicifera (Drechslera spicifera), Rhinocladiella mackenziei (Ramichloridium mackenziei and Ramichloridium obovoideum) and Aureobasidium species.
Pathogenesis of CNS Disease:
Extension from the adjacent paranasal sinuses

Inhalation and proliferation of spores

Directly from penetrating trauma to the head
Hematogenous dissemination

Localized skin lesions
Injection drug use
Heart-lung transplant patient with pneumonitis
Epidemiology/Clinical Features:
Half of the cases had no apparent immunossupression (Clin Infect Dis. 2004;38(2):206)
Cases present with focal neurologic deficits and/or generalized seizures.

Fever and headache are uncommon.
Symptomatic sinusitis or localized infection due to dematiaceous fungi at another site is very rare.
Meningeal involvement is unusual.
Diagnosis and Treatment:
Microscopic examination

Branching, brown septate hyphae on H&E or KOH
Rarely, the hyphae do not have pigment

Special stains for melanin (Fontana-Masson stain)
Grow relatively quickly from clinical specimens.
Identification is based on morphology of cultures
Surgical resection + antifungals

Susceptibly cut offs are not standardized
Voriconazole, posaconazole, amphotericin B
Outcomes:
In March 2017, worsening CNS symptoms while taking voriconazole. Pt. was switched to posaconazole 300 mg/d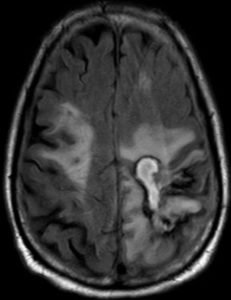 (Brain MRI 2)
Despite posaconazole therapy, patient developed progressive symptoms. Repeat biopsy was performed due to progressive symptoms and for decompression, debulking of the lesion.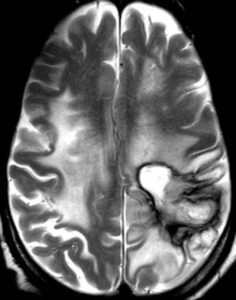 (Brain MRI 3)
| | |
| --- | --- |
| 10/8/2017 | Cladophialophora bantana |
| Drug | FDIL |
| 5-Flurocytosine | 0.25 |
| Amphotericin-B | 1 |
| Itraconazole | </= 0.03 |
| Posaconazole | <= 0.03 |
| Voriconazole | 0.125 |
Cladophilalophora bantana
Terbinafine 0.03 ug/ml
Isavuconazole 0.125 ug/ml
Ultimately patient switched to isavuconazole, flucytosine, and terbinafine. Symptoms progressed; patient died February 2018.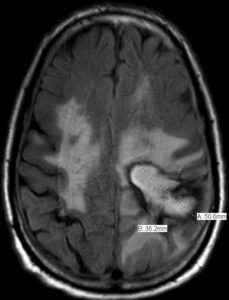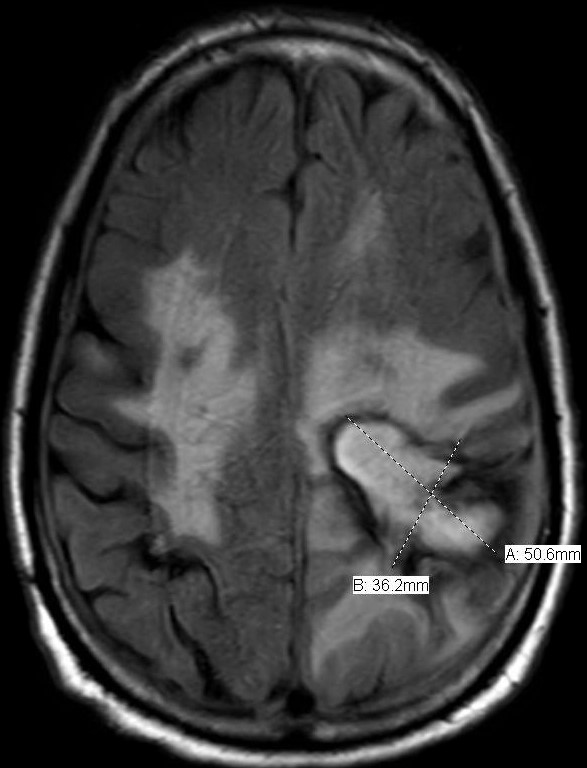 (Brain MRI 4)
References:
Revankar SG. Cladophialophora bantiana brain abscess in an immunocompetent patient. The Canadian Journal of Infectious Diseases & Medical Microbiology. 2011;22(4):149-150.
M.E. Brandt & D.W. Warnock (2013) Epidemiology, Clinical Manifestations, and Therapy of Infections Caused by Dematiaceous Fungi, Journal of Chemotherapy,15:sup2, 36-47, DOI: 10.1179/joc.2003.15.Supplement-2.36
Sutton DA, Slifkin M, Yakulis R, Rinaldi MG. U.S. Case Report of Cerebral Phaeohyphomycosis Caused by Ramichloridium obovoideum (R. mackenziei): Criteria for Identification, Therapy, and Review of Other Known Dematiaceous Neurotropic Taxa. Journal of Clinical Microbiology. 1998;36(3):708-715.