Title: Disseminated Aspergillosis in a Patient Treated with Ibrutinib
Submitted by: Sibylle C. Mellinghoff, MD
Institution: University Hospital of Cologne, Department I for Internal Medicine
Email: sibylle.mellinghoff@uk-koeln.de
Date Submitted: November 4, 2020
History: A 59-year-old male in-patient developed persistent fever and cough after 11 days of neutropenia following two cycles of chemotherapy for Hodgkins Lymphoma. The patient's Hodgkins Lymphoma developed as Richters-Transformation (RT) from an underlying Chronic Lymphocytic Leukemia (CLL). The latter was treated with ibrutinib as third line therapy until the diagnosis of RT. During in-hospital treatment, the patient developed a skin-lesion on the left lower leg and, simultaneously, fever and cough.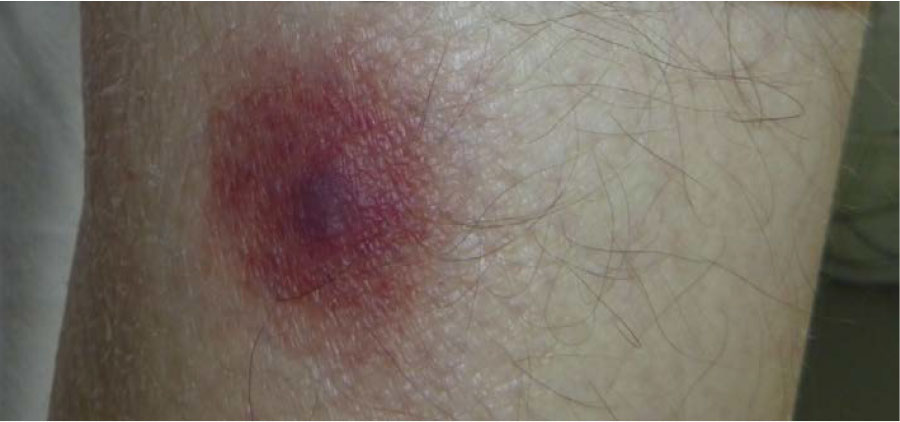 Physical Examination showed skin lesions on the left lower leg (approximately 4 cm, Figure 1). and weakened respiratory sounds over the lung (left, basal).
Laboratory Examination at time of emerging symptoms: Elevated C-reactive protein (122 mg/dl), leukopenia (0.4/µl)
Question 1: What are probable/possible diagnoses?
The most probable differential diagnosis includes: 1.) ecthyma gangrenosum, 2.) invasive fungal infection (Fusarium, Mucormycosis, Aspergillosis), 3. ) nosocomial acquired pneumonia caused by a bacterial pathogen. Since the patient was treated with ibrutinib, a broad range of opportunistic infections had to be considered including fungal infections by molds.
Also, blood stream infections had to be considered as source of infection in a neutropenic patient with fever and indwelling intravenous catheter.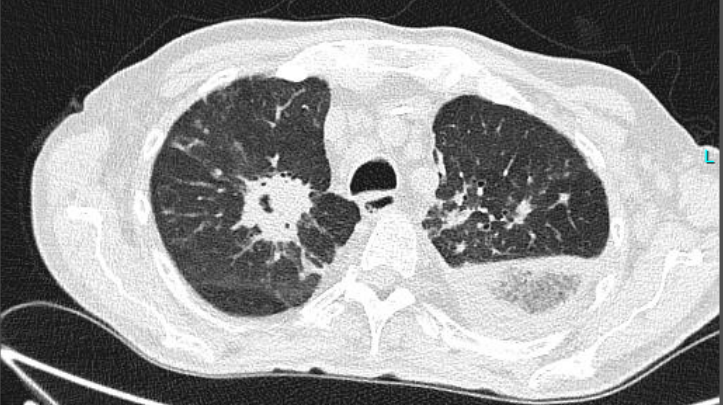 Diagnostic Tests Performed/Results:
Chest CT: A CT-Scan revealed pulmonary nodules with halo sign (Figure 2).
Blood cultures (negative)
Bronchoalveolar lavage: Aspergillus fumigatus
Skin biopsy: Aspergillus fumigatus
Final Diagnosis: Disseminated aspergillosis (including skin infection and invasive pulmonary aspergillosis)
Question 2: What treatment is recommended in the care of this patient?
Treatment: The patient was initially treated with ceftriaxone and gentamicin empirically due to fever of unknown origin. Fever persisted and a chest CT scan was performed revealing pulmonary nodules with halo sign. The same day, results from a skin biopsy showed an invasive aspergillosis fumagitis.
Isavuconazole therapy was initiated (he had not been on antifungal prophylaxis). Due to possible drug-drug-interactions with other antifungals, this was the drug of choice in this case.
After 3 weeks of isavuconazole the patient was responding well clinically and on CT of the Chest, the patient was discharged from hospital. One week thereafter, he developed a pulmonary hemorrhage and was unable to be resuscitated.
Discussion:
We here report a case of disseminated aspergillosis during treatment with ibrutinib for Hodgkin's Lymphoma.
Ibrutinib (PCI-32765) is a selective Bruton's tyrosine kinase (BTK) that regulates B-cell receptor signaling and thereby B-cell activation, interaction, and survival of leukemic cells in B cell malignancies 1. Additionally, BTK has been shown to be a direct regulator of crucial components of the innate immunity, e.g. regulating recruitment of neutrophils and macrophages 2. Hence, therapeutic targeting of BTK in hematological patients increases the risk of opportunistic infections, e.g. invasive fungal infections (IFI) which have recently been described by several investigations 3-7. Due to various risk factors and pre-treatments in this patient population, a clear association of ibrutinib and IFI remains difficult. The effect of ibrutinib on macrophages seems to be of importance in this context 8. This case is another example of IFI during treatment with the BTK-inhibitor ibrutinib.
Aspergillus begins as a pulmonary infection after inhalation of spores; however, in the immunocompromised patient, dissemination through the blood stream can lead to invasion of other organs, including the skin. Skin lesions by Aspergillus spp. occur in 5-10% of patients, characterized by a central necrotic ulcer or eschar and in such cases A fumigatus is the most common. Disseminated aspergillosis is associated with a mortality rate of 90%.9
Clinicians should hence be aware of new infectious diseases' patterns and atypical courses in patients treated with ibrutinib and further novel biologic therapies.
Key References:
Satterthwaite AB, Witte ON. The role of Bruton's tyrosine kinase in B-cell development and function: a genetic perspective. Immunological Reviews. 2000;175:120-127.
Weber ANR, Bittner Z, Liu X, Dang TM, Radsak MP, Brunner C. Bruton's tyrosine kinase: An emerging key player in innate immunity. Frontiers in Immunology. 2017;8:1454.
Grommes C, Younes A. Ibrutinib in PCNSL: The curious cases of clinical responses and aspergillosis. Cancer Cell. 2017;31(6):731-733.
Ghez D, Calleja A, Protin C, et al. Early-onset invasive aspergillosis and other fungal infections in patients treated with ibrutinib. Blood. 2018;131(17):1955-1959.
Chamilos G, Lionakis MS, Kontoyiannis DP. Call for Action: Invasive fungal infections associated with Ibrutinib and other small molecule kinase inhibitors targeting immune signaling pathways. Clinical Infectious Diseases. 2018;66(1):140-148.
Varughese T, Taur Y, Cohen N, et al. Serious infections in patients receiving ibrutinib for treatment of lymphoid cancer. Clinical Infectious Diseases. 2018;67(5):687-692.
Fürstenau M, Simon F, Cornely OA, et al. Invasive aspergillosis in patients treated with ibrutinib. Hemasphere. 2020;4(2):e309. Published 2020 Feb 13. doi:10.1097/HS9.0000000000000309
Herbst S, Shah A, Mazon Moya M, et al. Phagocytosis?dependent activation of a TLR9–BTK–calcineurin–NFAT pathway co?ordinates innate immunity to Aspergillus fumigatus. EMBO Molecular Medicine. 2015;7(3):240
Chiu A, Wei GE. Dermatologic manifestations of aspergillosis. Medscape. 2018. https://emedicine.medscape.com/article/1092247-overview