Trade & Generic Names & General Features
Griseofulvin is an antifungal agent first isolated from a Penicillium spp. in 1939. The compound is insoluble in water. It is effective after oral ingestion and reaches the skin and hair. It is deposited primarily in keratin precursor cells. Ingestion with a heavy meal and reduction in particle size enhances the absorption of griseofulvin [1347].
Griseofulvin is currently produced by different companies. The microcystalline form is marketed as Grifulvin V™ (Ortho Dermatological). (Fulvicin U/F™ (Schering) and Grisactin™ (Wyeth-Ayerst), the other two microcrystalline products are no longer marketed.) Ultramicrocrystalline form is marketed as Gris-PEG™ (Pedinol). (Fulvicin P/G™ (Schering) and Grisactin Ultra™ (Wyeth-Ayerst), the other two ultramicrocrystalline products are no longer marketed.)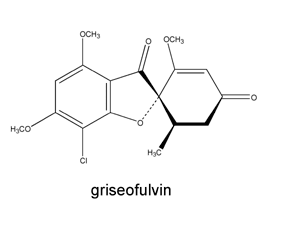 Mechanism(s) of Action
Griseofulvin inhibits fungal mitosis by disrupting the mitotic spindle through interaction with polymerized microtubules [935].
Susceptibility Patterns
Griseofulvin is mainly effective on a specific group of fungi, dermatophytes. However, a standardized in vitro susceptibility testing methodology is not yet available for this group of fungi. Studies to address this to question are in progress. One of the parameters under investigation is the standard medium to be used in the test [1121]. This medium should enhance conidium formation in dermatophytes.
Although as yet unstandardized, the in vitro activity of griseofulvin has been tested against various dermatophytes. The major goal of performing susceptibility tests for griseofulvin is to compare its in vitro activity with those of novel agents used in treatment of dermatophytosis. Griseofulvin yields higher MICs compared to terbinafine and itraconazole when tested against Trichophyton rubrum isolates [1121, 1236]. It is also less active than voriconazole against most dermatophytes [2432]. The reduced in vitro activity of griseofulvin against Trichophyton mentagrophytes compared to Trichophyton rubrum is also noteworthy [1236]. However, the meaning and clinical significance of these data demand further investigations and development of a standard in vitro susceptibility testing method.
For griseofulvin MICs obtained for various types of fungi, see susceptibility patterns and the N/A(L):susceptibility database.
Usual Doses
The typical dose of microcrystalline form is 500-1000 mg/day. Ultramicrocrystalline form is administered at doses of 330-990 mg/day [1237].
Side-Effects
Adverse reactions of griseofulvin are uncommon. Nausea, diarrhea, headache, skin eruptions and photosensitivity are occasionally observed. Hepatotoxicity and neurological side effects may rarely occur [1237, 1563].
Routes
Griseofulvin is administered orally. Its microcrystalline and ultramicrocrystalline forms are available as tablets. The microcrystalline form also comes in a pediatric suspension form.
Current Status
Griseofulvin has been the first-line drug for treatment of dermatophytosis for many years. However, following the emergence of alternatives such as itraconazole and terbinafine, its use has been limited. The major advantages of these newer agents over griseofulvin are their reduced toxicity, enhanced efficacy, and shorter duration of therapy [1014, 1934].